Uiltje Brewing Company
Our mission is pretty much monomaniacal: to brew f*cking great beer. Brewing the best Dutch beers is what we strive for. Every single day we produce the quality beer that makes your day complete! Brewing the best Dutch beers is what our everyday motto is, when we begin brewing the hoppy beers which you are enjoying only a couple weeks later! We aim to uphold the stunning quality of our hoppy beer, because the owl's got a sharp, uncompromised tongue. The process of brewing quality beer is a magical process which we enjoy to the fullest every single time. So sit back, relax, and enjoy our hoppy beer!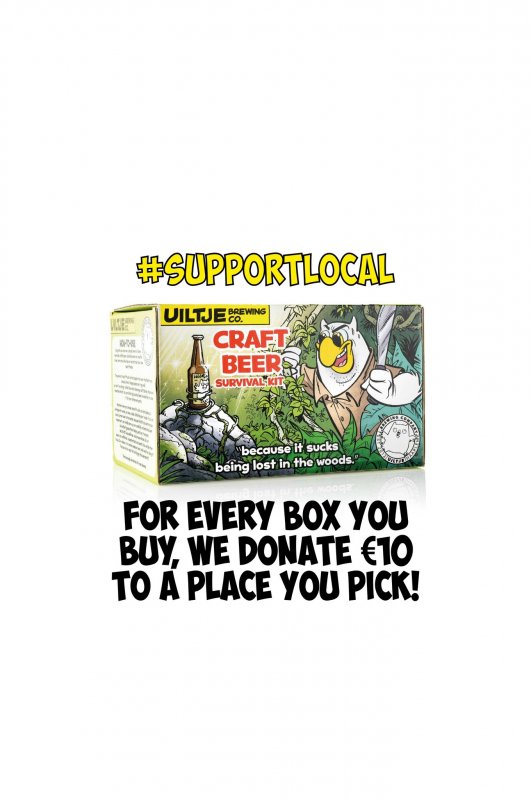 Uiltje #SupportLocal Projects are live!
It's tough times for local cafes, bars, clubs and restaurants. That is why we want to help. And we think you want to help, too.
We've come up with two ways to support the local companies who need our help at these times the most.
#SupportLocal Survival Kit
Support your local drinking hole by...drinking beer
Do you want to help out? We're gonna make it easy for you. For the next few weeks we're selling our Craft Beer Survival Kits for just €22,50 (usual price: €17,50). But here's the catch: of that €22,50, we're donating €10 to a local hangout of your choice. Nice, right?
This is how it works.
Buy our Craft Beer Survival Kit containing our six awesome beers in a pretty sick box. It contains our core beers and maybe a special one, so you know you'll get good beer. But you also get to choose where you want those €10 to go.
Choose the hangout you want to support. Give us the name, fill in the city. But here's the thing, you gotta get your friends in on this. Because for every €40 raised for a local bar, we'll pony up a free keg of beer to that bar once all this quarantine chaos is behind us.
Do you prefer something you can wear and support the Haarlem Bars at the same time? Check out the #SupportLocal Shirt
#Support Local Shirt
Not all heroes wear capes.
Actually, forget about the cape! What if you could just buy a shirt and become a superhero overnight? Well, now you can. You'll support your Haarlem based bar, cafe, club or restaurant, and look fancy doing so. All you have to do is buy a shirt here.
This is how it works.
In the upcoming weeks, we will be selling these Haarlemse Horeca Held t-shirts for just €29,95. The more shirts we sell, the more you support the local hangouts. From the proceedings we will be donating kegs and cans of fresh beer to those in need, and as a bonus you can show off you good looks doing so. This stylish piece of cloth will transform any local supporter into a superhero, and that's a promise.
Is your favourite bar not a local one, and you still want to help them out? You could always go for the #SupportLocal Survival Kit, and stock up on some cold ones.
Bekijk de actie